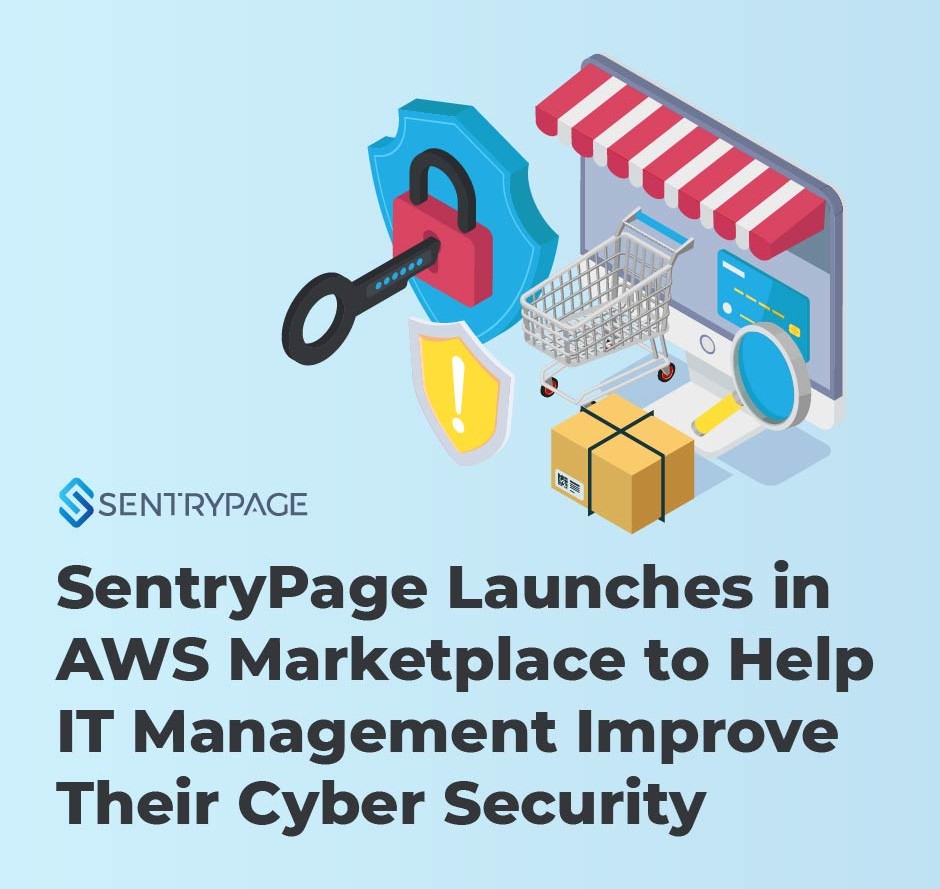 SentryPage Launches in AWS Marketplace to Help IT Management Improve Their Cyber Security Measures
Now AWS Users can access SentryPage quicker to address their cybersecurity concerns.
SentryPage is available now and can be accessed on AWS Marketplace – SentryPage. Amazon Web Services (AWS) Marketplace is a huge marketplace containing catalogues with thousands of software listings from independent software vendors (ISVs). This marketplace makes it easy to search, find, and buy softwares that runs on Amazon Web Services (AWS).   
SentryPage launches in AWS Marketplace to make businesses feel secure and safe by continuously monitoring website changes.  Whenever any bad changes happen, SentryPage alerts its users. SentryPage acts like a digital watchdog that sees everything, identifies and analyzes suspicious things, and sends alerts to its owner if critical.    
SentryPage was designed and developed to provide cyber security functionalities. As we already know, companies nowadays are more prone to vulnerabilities, especially in the cyber world, where threats continuously evolve. 
In fact, cyber threats are real and still around us, as stated on checkpoint.com, 71% of cyber professionals report increased threats since COVID-19. One of the proofs is the increase in website defacement activities during the coronavirus lockdown. Cybersecurity analyst indicates the increase is due to the greater number of vulnerable targets since the coronavirus pushed more activities online.   
SentryPage Engines is Hosted on AWS.   
SentryPage works like a 'CCTV' but is powered by two unique engines.    
Attack Signature Engine to detect hacker words. SentryPage acknowledges the word pattern of hackers, such as hackers' signatures, hacker names, and profanities from multiple languages. SentryPage always updates those suspicious words verified by native speakers, enabling SentryPage to recognize anomalies in written text.  
External Resource Engine to detect injected unfamiliar components. It enables SentryPage to detect any unidentified domains embedded on a webpage. It highlights the source code where the links are embedded on the page to recognize the injection for further review. 
All engines and systems of SentryPage use services from AWS. To extend that engagement, SentryPage can now be accessible also from AWS Marketplace.    
Xtremax, the IT System Integrator behind the SentryPage, commits to providing SentryPage on every digital marketplace, starting from AWS Marketplace. Not only will it be available worldwide, but the presence on AWS Marketplace will also help AWS customers consolidate SentryPage bills incorporated into their purchases and bills, resulting in a single yet straightforward payment.  
About SentryPage   
SentryPage is a cybersecurity tool that works for professionals, small-medium businesses, and the enterprise-government users. SentryPage was released for the first time in 2017 as a feature under Content Website Platform (CWP), an infrastructure solution provided by Xtremax for Singapore Central Government. As of 2022, SentryPage has been trusted by more than 60 Agencies of Singapore Government. The number of enterprise users shows the commitment from SentryPage to defending their websites from cyberattacks and horrible changes done by cyber attackers.